₹ 499.00 ₹ 449.00
Add To Cart
Product Description
Removes yellow teeth stains with the help of purple color
Unique solution that is Peroxide Free, Enamel Safe, 100% Effective
Contains bromelain and papain enzymes as active ingredients
Exciting taste profile of apple, peach, and mint
Sale price
₹ 449.00
Regular price
₹ 499.00
Unit price
per
Sold out
Get Additional 15% Off | Use Code: PURPLE
Check Services and Delivery for
View full details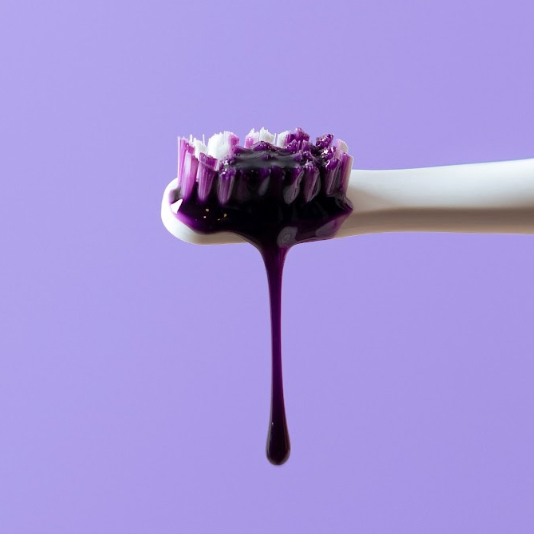 Teeth Whitening
Learn about Serum benefits, use, etc.
Why should I use this serum?
Your overall oral hygiene is an important aspect of your health. And, we all want a shiny set of teeth but the stubborn yellow stains on our teeth refuse to go away. So, with the help of our enamel-safe, Purple Magic Whitening Serum you'll be able to achieve that perfect white pearly smile.
How does The Purple Serum help in teeth whitening?
This serum uses corrective colour technology to whiten your teeth i.e. it helps in removing yellow-coloured teeth stains with the help of purple colour, bromelain and papain enzymes (active ingredients for teeth whitening). Applying purple on your teeth can counteract and cancel the yellow stains on the surface, making your teeth appear whiter
How long does it take to show results?
It can take anywhere between 2 weeks - 8 weeks to see visible whiter teeth. With consistent use, one can experience up to 4 shades of whiter teeth. However, the results may vary from person to person depending on their dental health and food consumption habits.
Purple Serum Features
Learn about what is special about our Purple White Serum, when to use it, etc.
How is a serum used in Oral care?
Serums are often used in skincare, to hydrate and nourish our skin and make us feel confident. A serum in oral care will do just the same- make you feel confident about your smile. This serum is based on colour corrective technology wherein purple and yellow are complementary colours. That's why, applying purple on your teeth can counteract and cancel the yellow stains on the surface, making your teeth appear whiter.
Are there any side effects of it?
There are no side effects of the serum. The product is Peroxide Free, Enamel Safe, 100% vegetarian, and doesn't contain any harmful ingredients.
How does the Purple Serum taste?
Our Purple Magic Whitening Serum has a delicious apple, peach, and mint flavour and is too good to be resisted. This flavour, combined with clean and effective ingredients restores teeth brightness.
The Purple Magic Whitening Serum can be used by children above the age of 10.
How to use?
Learn about how to use it, how many times, etc.
When should I use the Purple White Serum?
Use the Purple Magic Whitening Serum twice a day in addition to regular brushing, if you're tired with your yellow coffee, tea, cigarette, etc. stains.
Can the serum replace normal brushing?
No, the serum cannot replace normal brushing. For the best results, use the serum in addition to regular brushing to see better results.
How much serum should be applied at once?
You should use 2 pumps of the Purple Magic Serum on your toothbrush and brush gently, twice a day in addition to regular brushing to get the best results.
Wet the bristles of your toothbrush and use 2 pumps of the Purple Magic Serum and brush like normal. Make sure you do not miss out on your regular brushing. And voila, you're on the path of getting whiter teeth soon!
Ingredients of the Teeth Whitening Serum
Learn about the ingredients, its benefit, etc
How do bromelain and papain enzymes help?
Bromelain and Papain Enzymes are active ingredients used for teeth whitening. These ingredients disrupt and remove the protein portion of the plaque layer that forms on the surface of teeth over time, thus removing the stains that are bound to these proteins.
Are the ingredients scientifically approved?
The Purple Magic Whitening Serum does not contain any preservatives or other cytotoxic ingredients. There are no bleach or harsh chemicals, it is certified Non-Toxic, SLS Free, Vegan, Preservative Free, Sugar-Free and Dentist Formulated & Recommended.
Being a naturally occurring organic material within our bodies means it is biocompatible and safer than most other dental products or treatments in the market. This means it does not induce toxicity such as the issue of overexposure and ingestion of fluoride known as fluorosis nor inflammation when it is used to spur bone growth & tooth repair.
What happens if the product is swallowed by mistake?
The product will cause no harmful effects in case swallowed. However, this does not imply that we in any way encourage swallowing the product. We request you to rinse thoroughly in case the product is swallowed.
Can you share the full list of ingredients?
Please find below the full list of ingredients:
Aqua (Demineralised Water), Sorbitol, Glycerine (Vegetarian), Hydrated Silica, Polysorbate 80, Erythritol, Sodium Carboxymethyl Cellulose, Nano Hydroxyapatite, Flavour, Xylitol, Apple Fruit Extract, Peach Fruit Extract, Papain Enzyme, Bromelain Enzyme, Sodium Methyl Cocoyl Taurate, Cocamido Propyl Betain, Potassium Sorbate, Menthol (Crystals), CI 17200:1, Peppermint (Essential Oil), Spearmint (Essential Oil), Stevia, CI 42090.