₹ 1,998.00 ₹ 1,599.00
Add To Cart
Product Description
Let your teeth (and confidence) shine bright.
This combo uses 100% safe and effective ingredients for visibly whiter teeth at home!
Get visibly whiter teeth with colour correcting technology
Additional 10% OFF | Use Code : ORALHEALTH
Check Services and Delivery for
View full details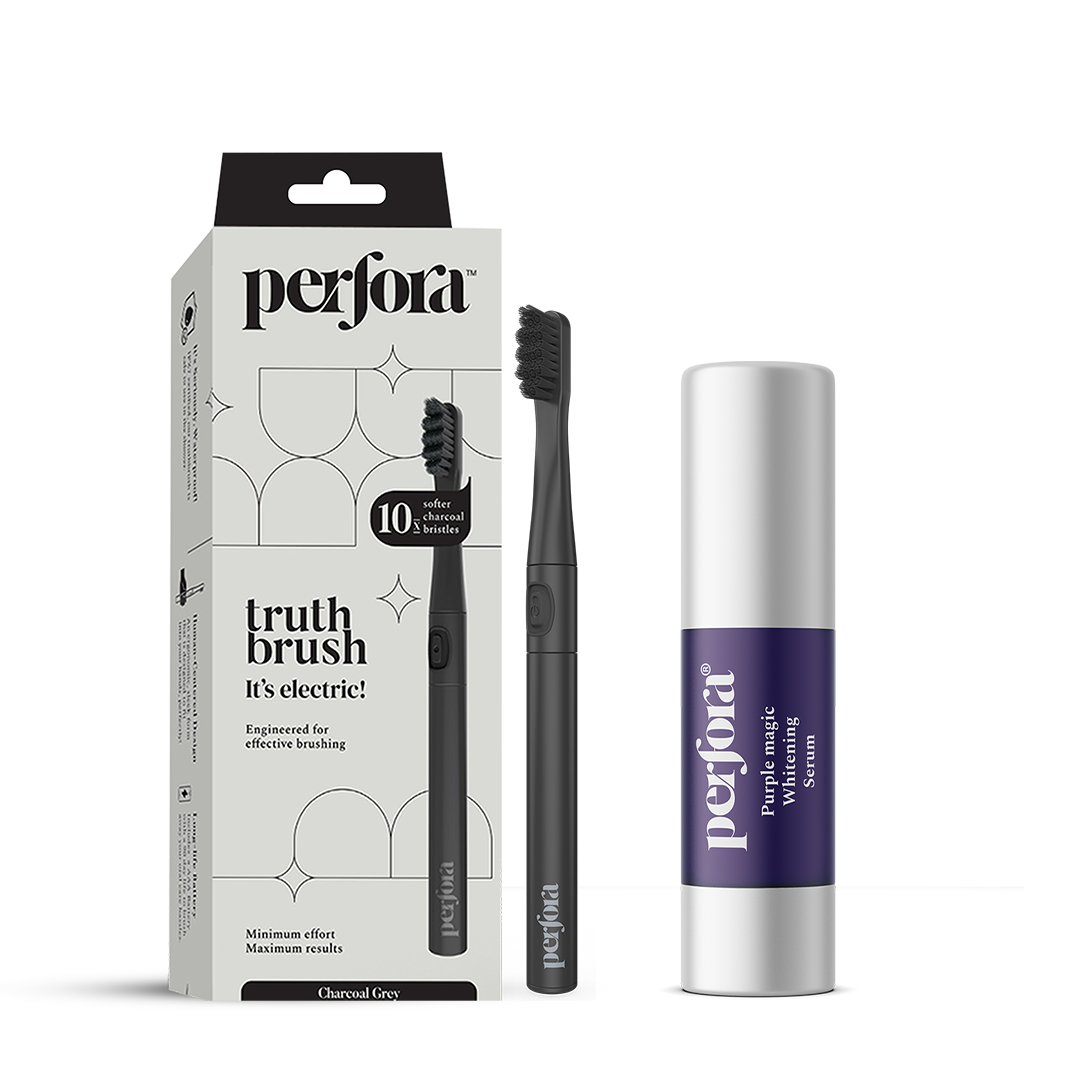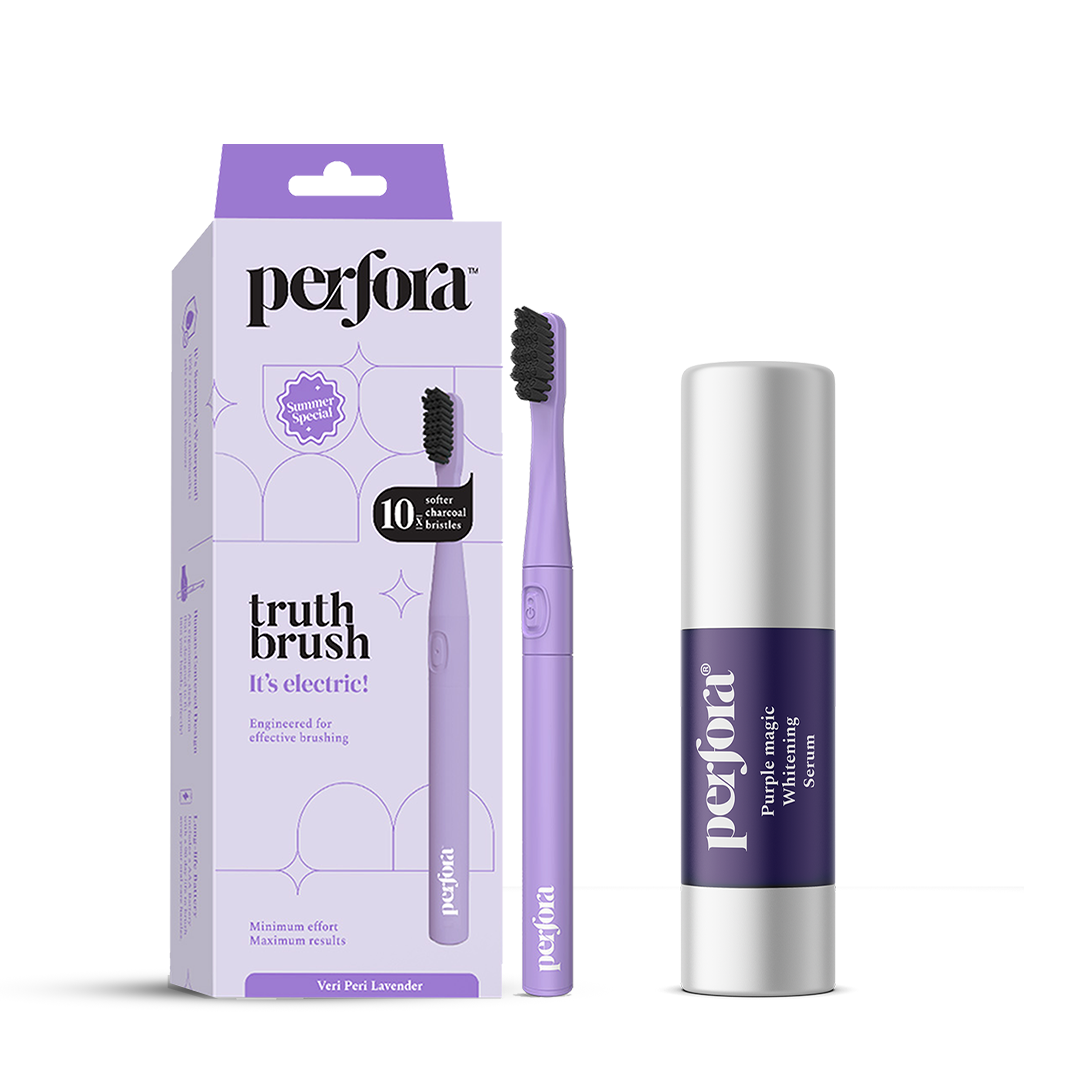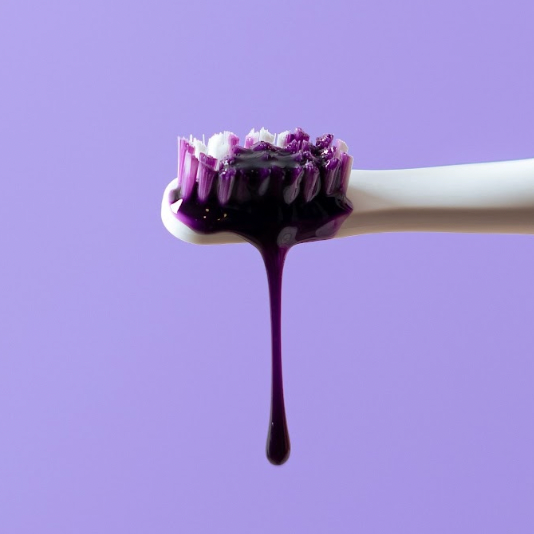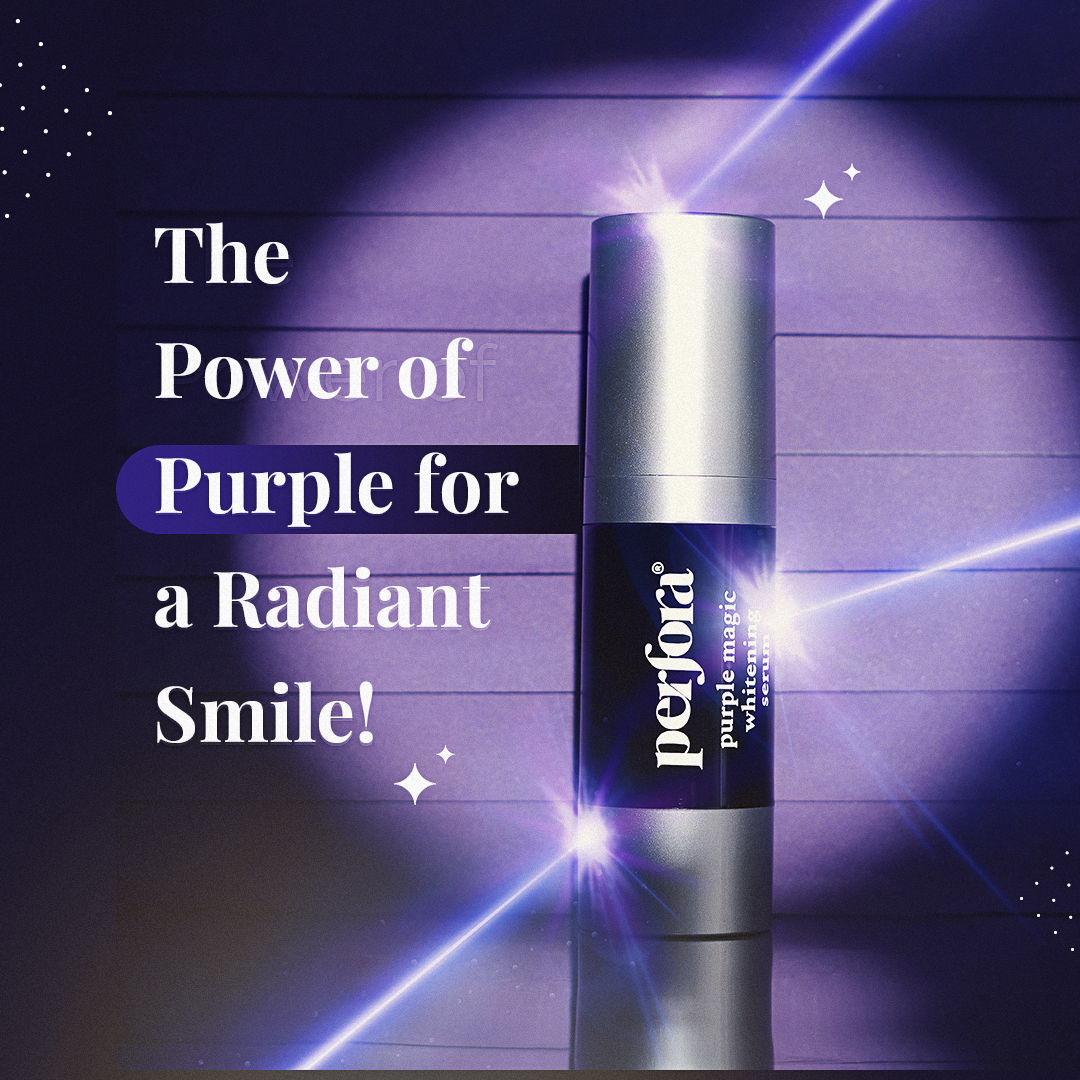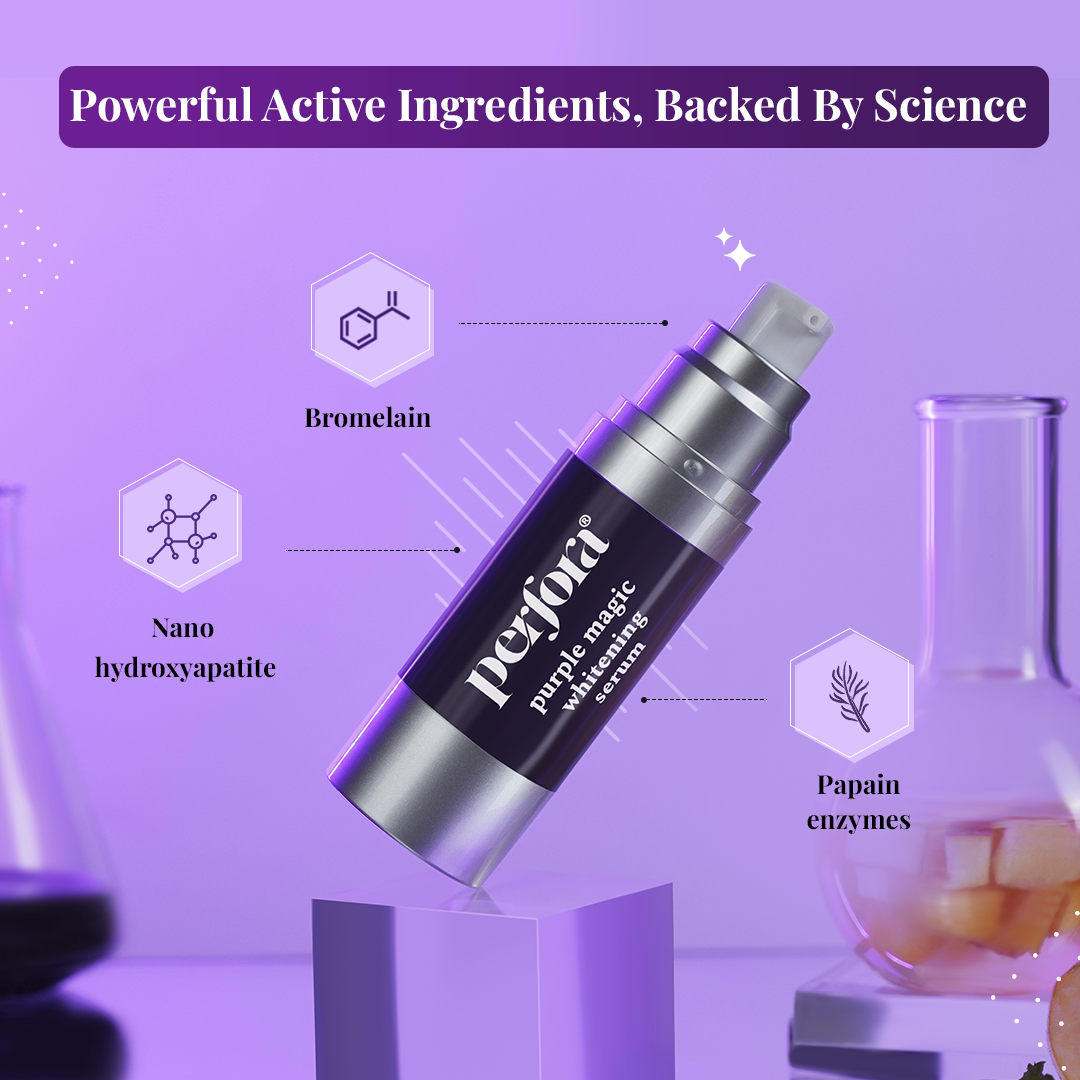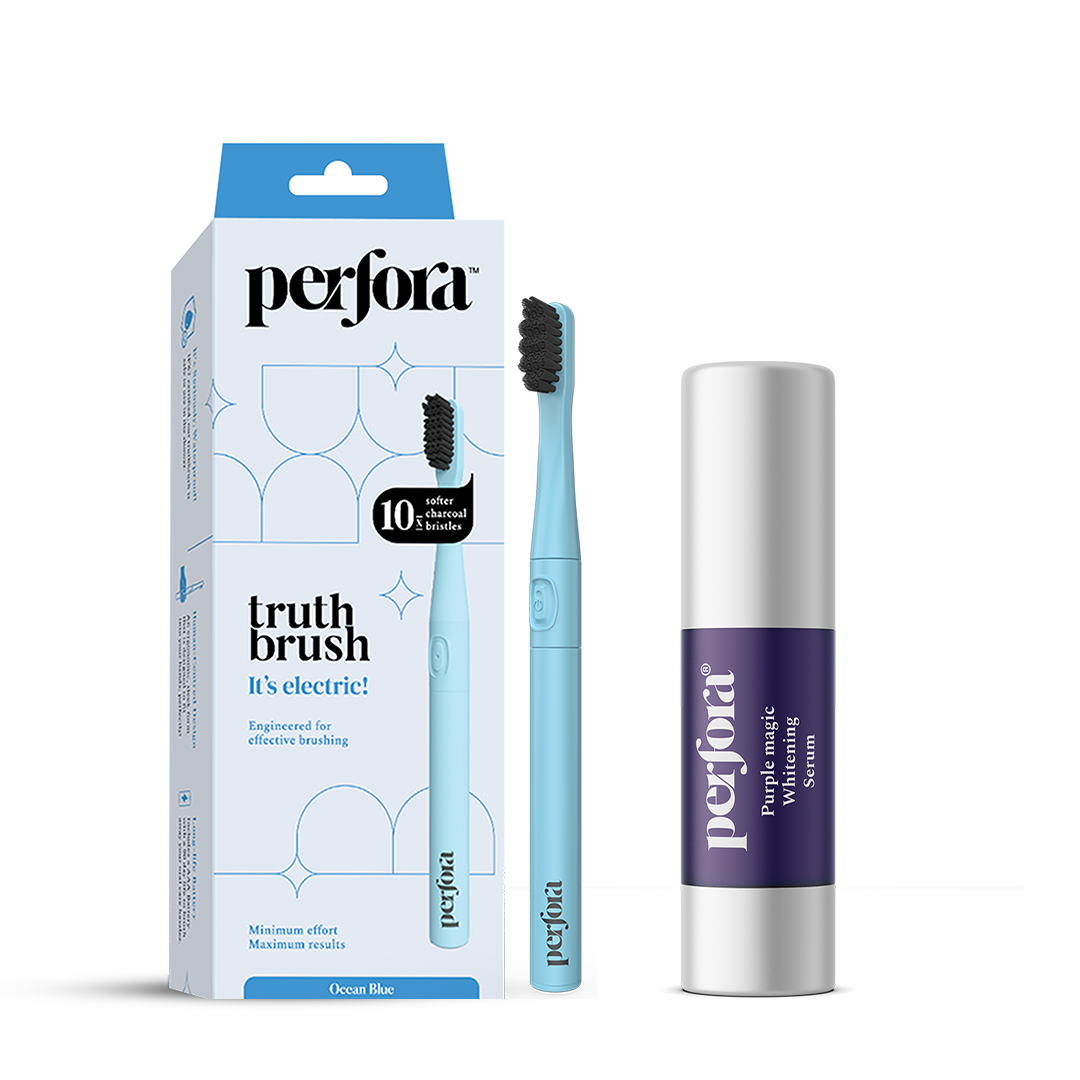 Frequently Asked Questions
Electric toothbrush
&nbsp
Why should I switch from a manual to an electric toothbrush?
According to dentists, an electric toothbrush with sonic technology cleans teeth and gums more effectively than a manual toothbrush. Since the usage is timed, an electric toothbrush also ensures a standardised brushing experience every single time
What is the difference between sonic and oscillating electric brushes?
Oscillating toothbrushes have brush heads that rotate at a rate of about 2,500 to 7,500 strokes per minute. Sonic toothbrushes do not rotate but vibrate much faster, at about 16,000 to 26,000 strokes per minute. Because sonic toothbrushes vibrate at around 5 times the rate of an oscillating electric toothbrush and produce hydrodynamic effect, a two-minute brushing session with a sonic toothbrush helps clean the teeth better.
How can I personalise my electric toothbrush?
Scroll to the top and click on 'Personalise With Your Name'. Just add the name you want to get printed on your electric toothbrush and we'll get it done.
Do you charge for personalisation?
The personalisation of the toothbrush costs Rs 49/-.
What is the battery life of the electric toothbrush?
Our electric toothbrush operates on AAA battery and has a battery life of 90 days. It does not require any additional charging.
&nbsp
&nbsp
Does the Truthbrush have a built-in timer?
Yes! With its in-built 2-minute timer and 30-second reminders to change brushing areas, the Perfora truthbrush promotes the correct tooth brushing habits recommended by dentists worldwide.
Does this toothbrush come with a warranty?
Of course. All manufacturing and delivery defects are covered under a 12-month warranty. You can read more about the warranty policy here.
What happens if I do not like the product?
We can assure you that you will love the product. However, if due to any reason you are not satisfied with it, we offer a 30 day 100% money back guarantee, no questions asked. Read more about our refund policy here or mail us on hello@perforacare.com
Purple Magic Whitening Serum Uses
&nbsp
Why should I use this serum?
Your overall oral hygiene is an important aspect of your health. And, we all want a shiny set of teeth but the stubborn yellow stains on our teeth refuse to go away. So, with the help of our enamel-safe, Purple Magic Whitening Serum you'll be able to achieve that perfect white pearly smile.
How does The Purple Serum help in teeth whitening?
This serum uses corrective colour technology to whiten your teeth i.e. it helps in removing yellow-coloured teeth stains with the help of purple colour, bromelain and papain enzymes (active ingredients for teeth whitening). Applying purple on your teeth can counteract and cancel the yellow stains on the surface, making your teeth appear whiter.
How long does it take to show results?
It can take anywhere between 2 weeks - 8 weeks to see visible whiter teeth. With consistent use, one can experience up to 4 shades of whiter teeth. However, the results may vary from person to person depending on their dental health and food consumption habits.
Are there any side effects of it?
There are no side effects of the serum. The product is Peroxide Free, Enamel Safe, 100% vegetarian, and doesn't contain any harmful ingredients.
How does the Purple Serum taste?
Our Purple Magic Whitening Serum has a delicious apple, peach, and mint flavour and is too good to be resisted. This flavour, combined with clean and effective ingredients restores teeth brightness.
Purple Magic Whitening Serum Benefits
&nbsp
When should I use the Purple White Serum?
Use the Purple Magic Whitening Serum twice a day in addition to regular brushing, if you're tired with your yellow coffee, tea, cigarette, etc. stains.
Wet the bristles of your toothbrush and use 2 pumps of the Purple Magic Serum and brush like normal. Make sure you do not miss out on your regular brushing. And voila, you're on the path of getting whiter teeth soon!
How do bromelain and papain enzymes help?
Bromelain and Papain Enzymes are active ingredients used for teeth whitening. These ingredients disrupt and remove the protein portion of the plaque layer that forms on the surface of teeth over time, thus removing the stains that are bound to these proteins.
What are the ingredients of the serum?
Aqua (Demineralised Water), Sorbitol, Glycerine (Vegetarian), Hydrated Silica, Polysorbate 80, Erythritol, Sodium Carboxymethyl Cellulose, Nano Hydroxyapatite, Flavour, Xylitol, Apple Fruit Extract, Peach Fruit Extract, Papain Enzyme, Bromelain Enzyme, Sodium Methyl Cocoyl Taurate, Cocamido Propyl Betain, Potassium Sorbate, Menthol (Crystals), CI 17200:1, Peppermint (Essential Oil), Spearmint (Essential Oil), Stevia, CI 42090.