₹ 1,798.00 ₹ 1,199.00
Add To Cart
Product Description
Sonic technology enabled electric toothbrush, Nano Hydroxyapatite and Potassium Nitrate fortified Toothpaste
The ingredients are clinically proven to instantly reduce teeth sensitivity
This combo helps in reducing teeth sensitivity and aids effective cleaning
Additional 10% OFF | Use Code : ORALHEALTH
Check Services and Delivery for
View full details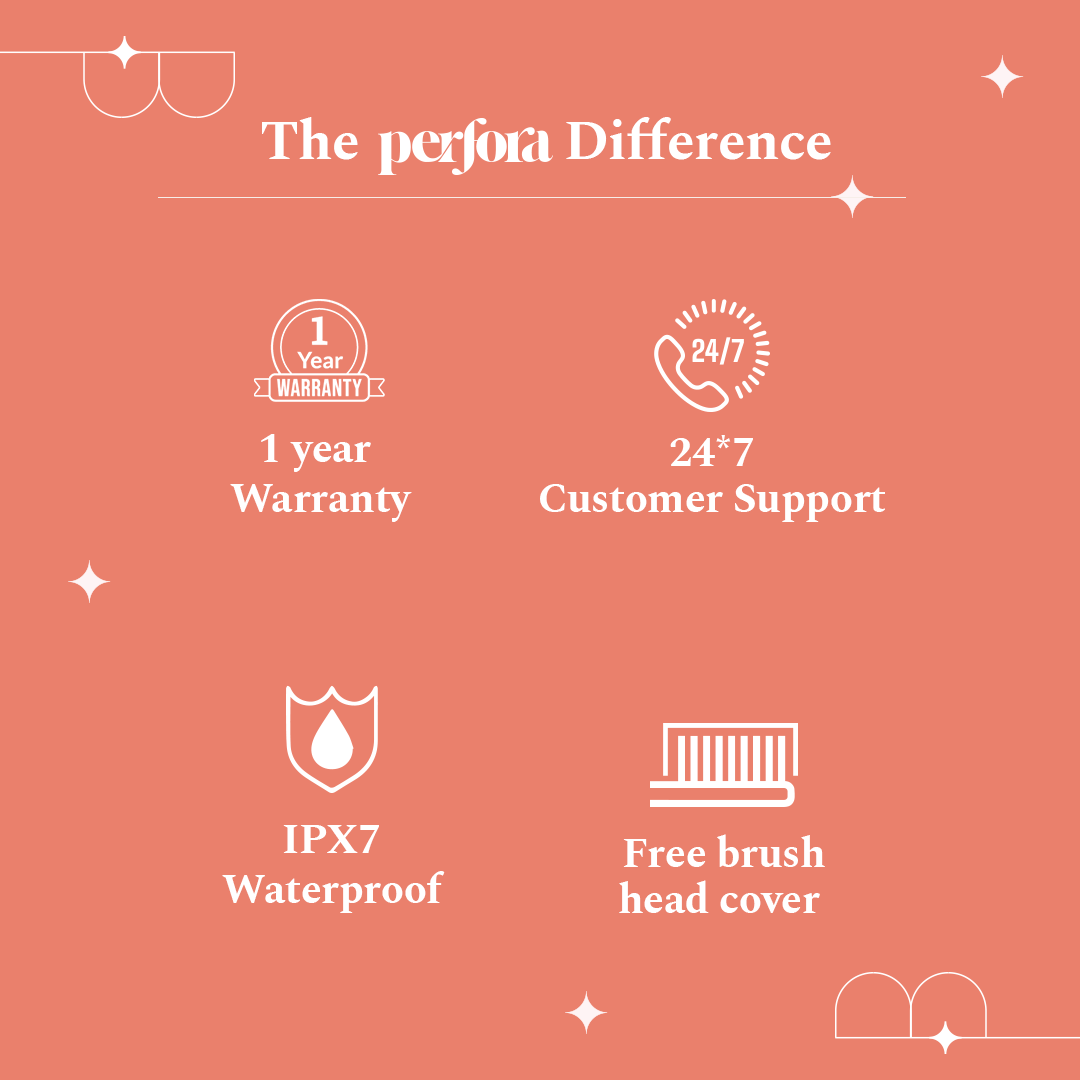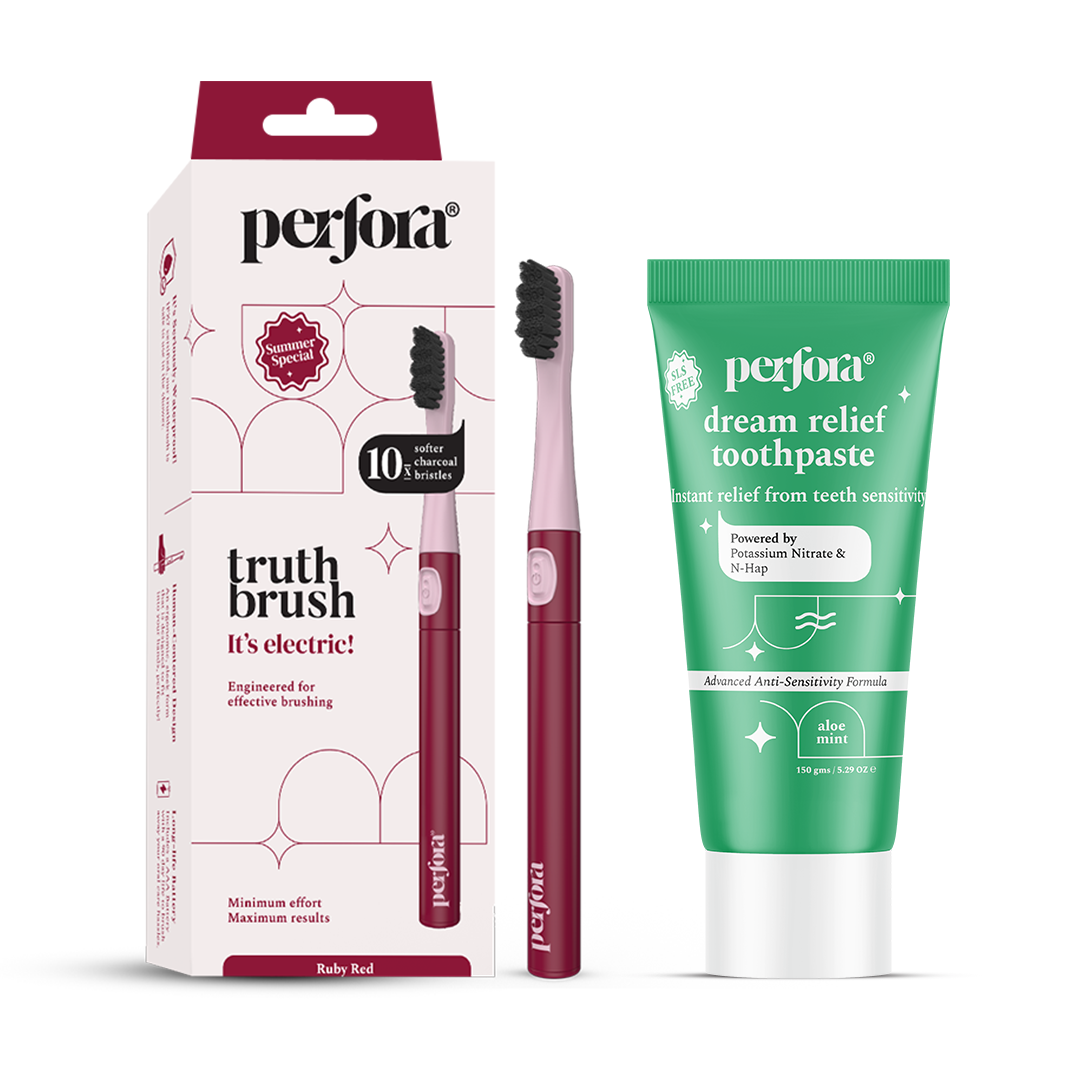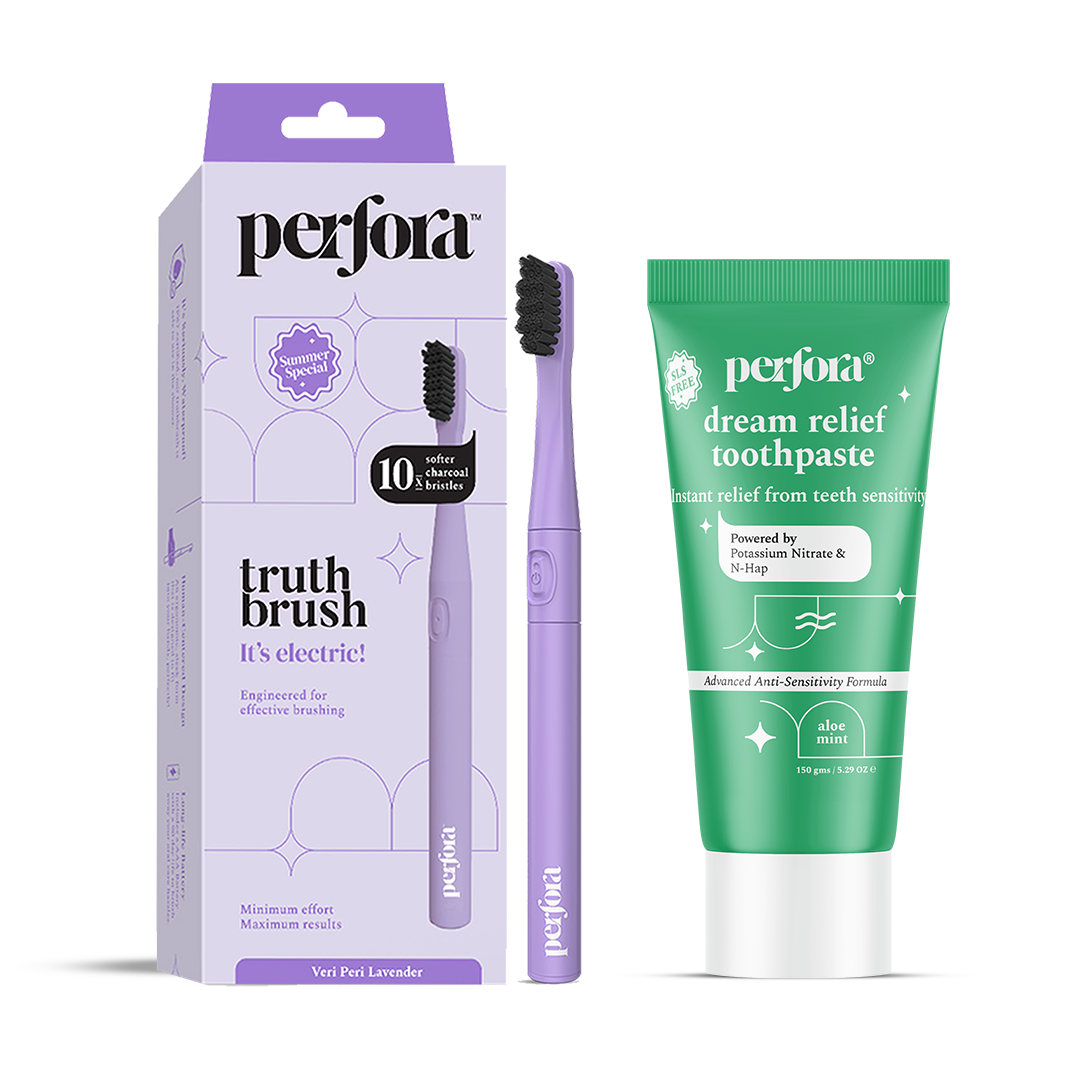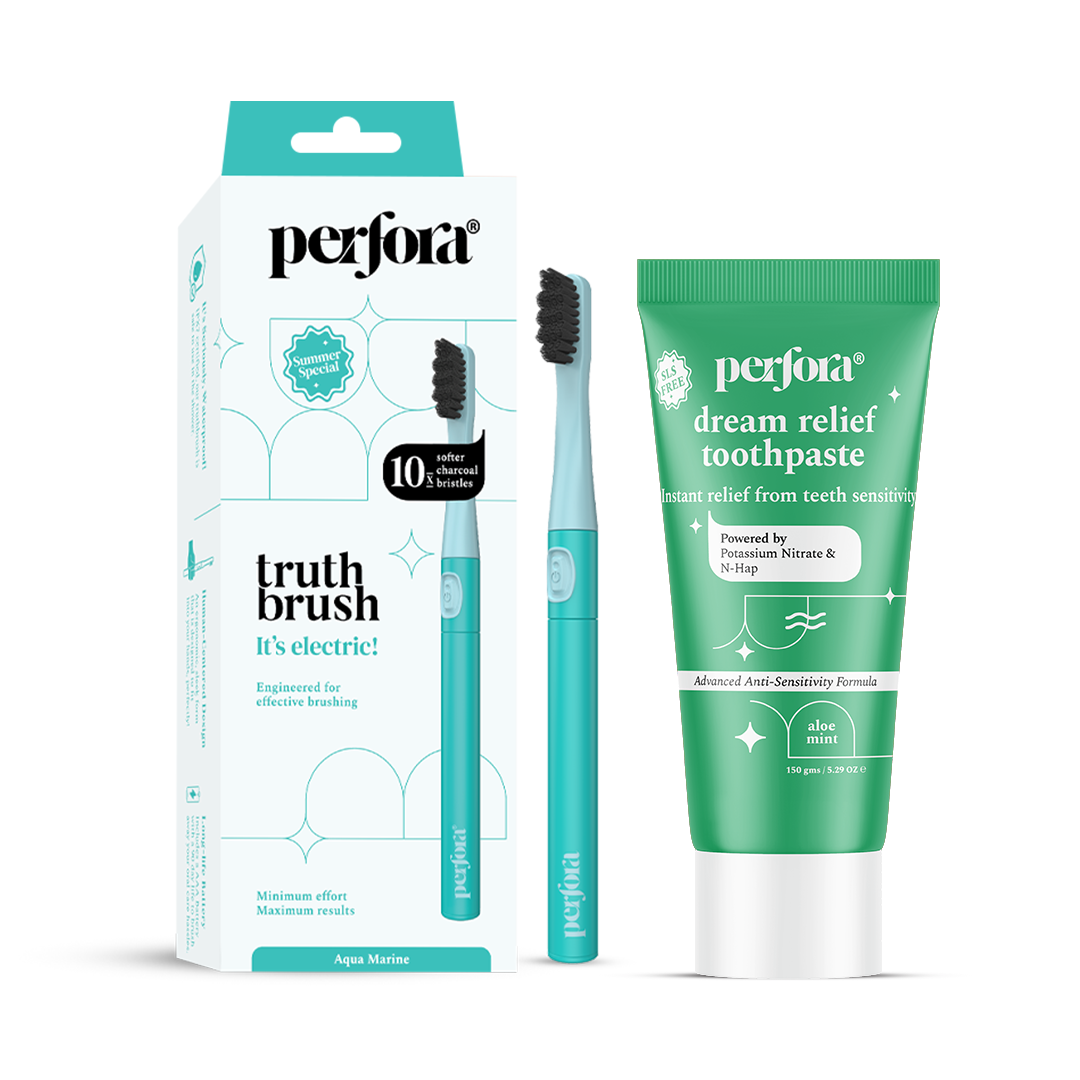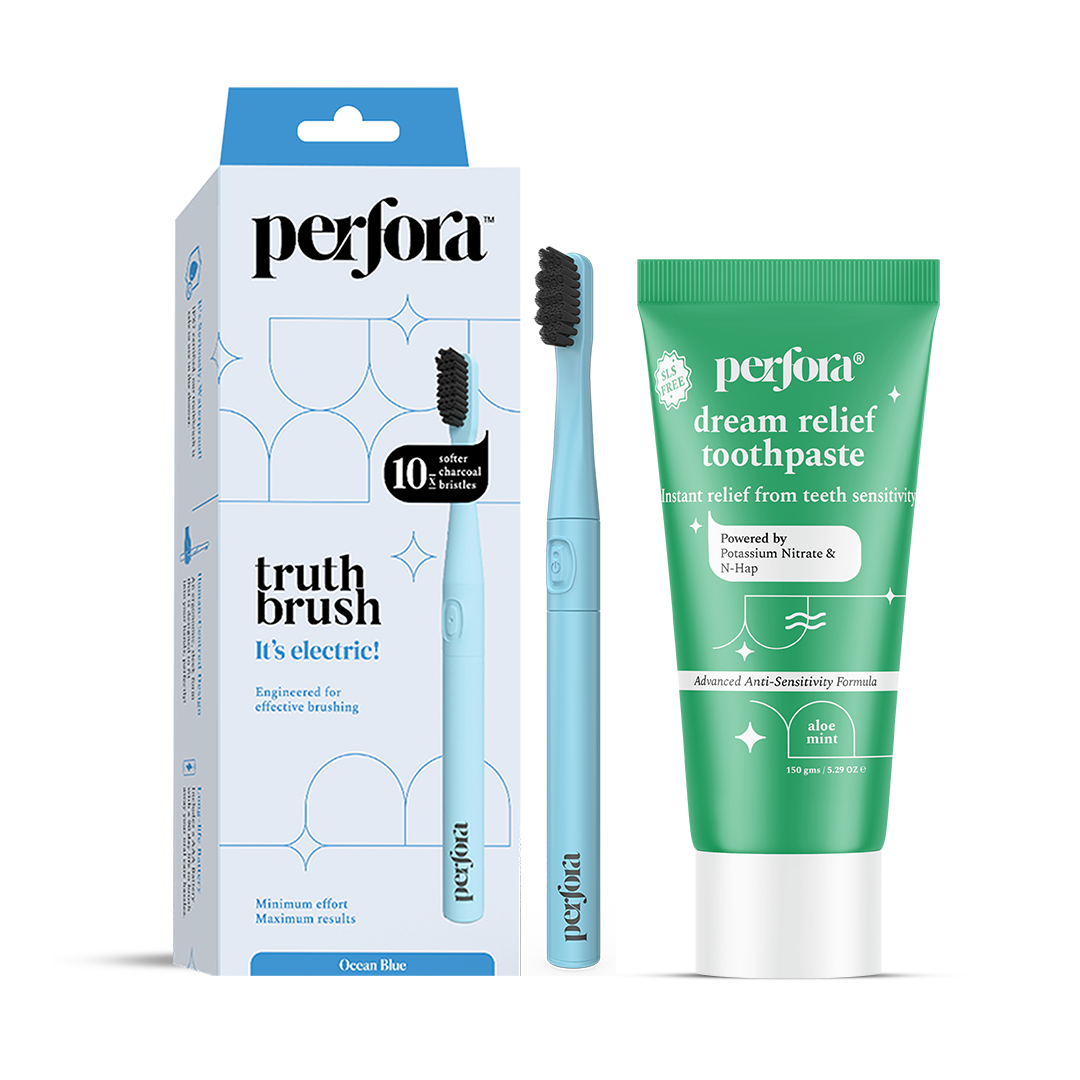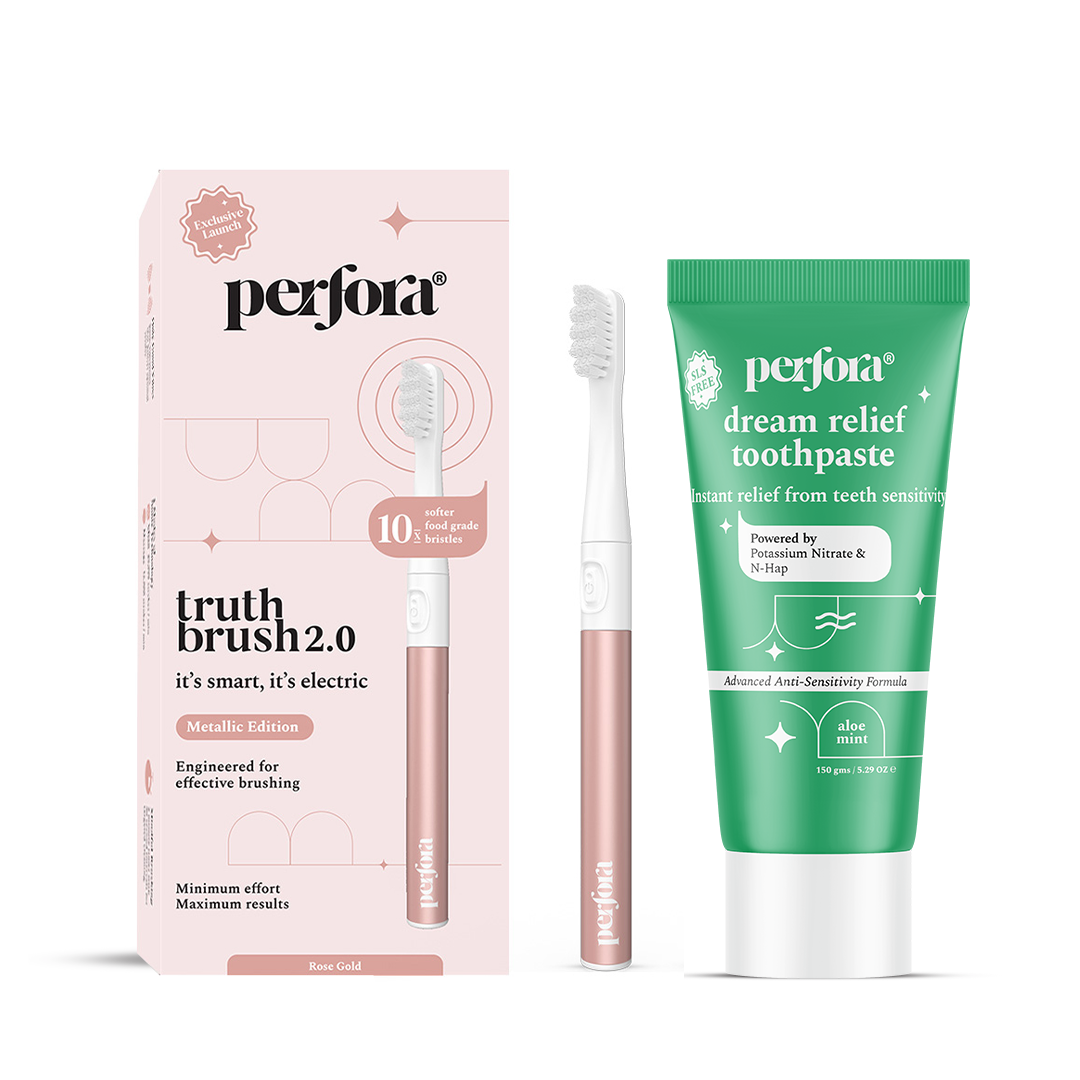 How to Use the Electric Truthbrush
Frequently Asked Questions
Electric toothbrush
&nbsp
Why should I switch from a manual to an electric toothbrush?
According to dentists, an electric toothbrush with sonic technology cleans teeth and gums more effectively than a manual toothbrush. Since the usage is timed, an electric toothbrush also ensures a standardised brushing experience every single time.
What is the difference between sonic and oscillating electric brushes?
Oscillating toothbrushes have brush heads that rotate at a rate of about 2,500 to 7,500 strokes per minute. Sonic toothbrushes do not rotate but vibrate much faster, at about 16,000 to 26,000 strokes per minute. Because sonic toothbrushes vibrate at around 5 times the rate of an oscillating electric toothbrush and produce hydrodynamic effect, a two-minute brushing session with a sonic toothbrush helps clean the teeth better.
How can I personalise my electric toothbrush?
Scroll to the top and click on 'Personalise With Your Name'. Just add the name you want to get printed on your electric toothbrush and we'll get it done.
Do you charge for personalisation?
We charge a minimal fee of ₹49 for personalisation. This is inclusive of all taxes.
What is the battery life of the electric toothbrush?
Our electric toothbrush operates on AAA battery and has a battery life of 90 days. It does not require any additional charging.
&nbsp
&nbsp
Does the Truthbrush have a built-in timer?
Yes! With its in-built 2-minute timer and 30-second reminders to change brushing areas, the Perfora truthbrush promotes the correct tooth brushing habits recommended by dentists worldwide.
Is this toothbrush has a warranty?
Of course. All manufacturing and delivery defects are covered under a 12-month warranty. You can read more about the warranty policy here.
What happens if I do not like the product?
We can assure you that you will love the product. However, if due to any reason you are not satisfied with it, we offer a 30 day 100% money back
guarantee, no questions asked. Read more about our refund policy here or mail us on hello@perforacare.com
Dream Relief - Anti Sensitivity Toothpaste
&nbsp
Why should I use Dream Relief Toothpaste?
Our Dream Relief toothpaste contains ingredients that cover and block the nerve ending tubules which become exposed as a result of the wearing out of the enamel. This serves to rehabilitate the tooth, making it stronger and less sensitive while being 100% safe.
What is different about sensitivity toothpaste
Keeping your teeth clean is just not enough,your teeth might need to go for special products that will keep your teeth and gums healthy. When you start facing sensitivity issues in your teeth, dentists often advise you to go for special toothpaste for sensitive teeth. Our Dream Relief toothpaste is the perfect combination of scientifically proven and natural ingredients that are 100% safe and target sensitivity to the core while helping maintain overall oral hygiene.
Yes, Not only this toothpaste is SLS (Sodium Lauryl Suphate) Free, but also Titanium Dioxide Free, and Sodium Saccharin Free.
In how many days I can see the results
You can generally see visible results within 7 days. However, this may differ from person to person based on their current dental conditions
Is this Fluoride Free toothpaste?
Yes, This formulation uses a more effective substitute of Fluoride known as Nano Hydroxyapatite for teeth remineralization.