₹ 2,499.00 ₹ 1,875.00
Add To Cart
Product Description
India's first Gold Dental Duo: 24-karat whitening toothpaste & stylish, sustainable Gold Toothbrush
With Nano Hydroxyapatite for remineralization
Fortified with Vitamin C & E for cavity protection
Enabled with a 2-minute timer, quad interval technology, IPX7 Waterproof
Sale price
₹ 1,875.00
Regular price
₹ 2,499.00
Unit price
per
Sold out
Additional 10% OFF | Use Code : ORALHEALTH
Check Services and Delivery for
View full details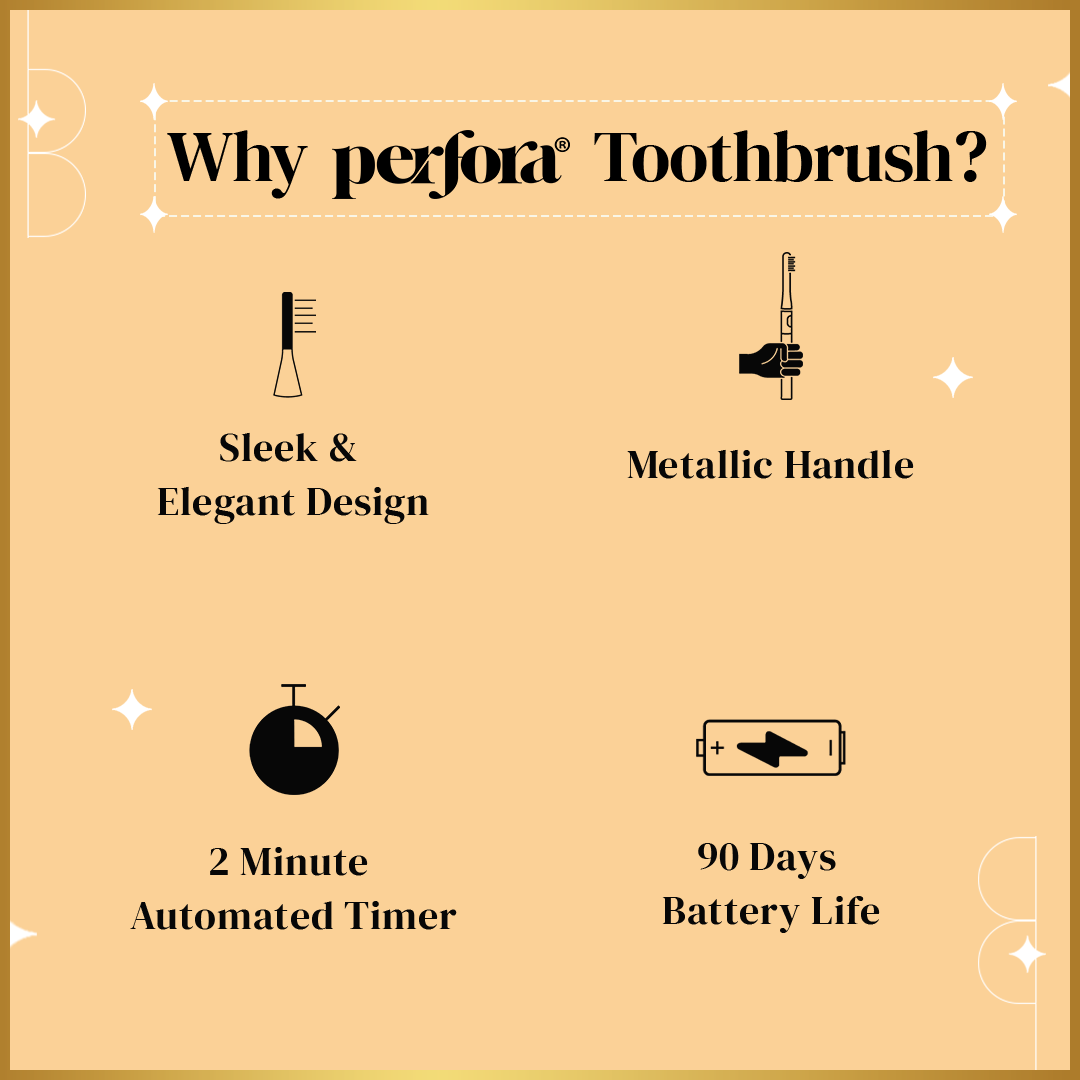 Frequently Asked Questions
Toothpaste
Learn about toothpaste benefits, use, etc.
Why should I use a toothpaste?
The Gold Toothpaste is formulated with 24 karat gold leaf, nano - hydroxyapatite and Vitamin C and gold dust which help you with teeth whitening, freshening breath and give you a luxurious brushing experience.
How does toothpaste help in whitening your teeth?
Gold Toothpaste is formulated with 24 karat gold leaf that helps whitening your teeth. In addition to teeth whitening, it also contains nano - hydroxyapatite which strengthens the enamel.
Is Gold Toothpaste good for daily use?
Yes, Perfora Gold toothpaste can be used daily. It is the perfect combination of scientifically proven and natural ingredients that are 100% safe. The formulation contains ingredients like 24 karat gold leaf, nano - hydroxyapatite and Vitamin C and gold dust which whiten teeth, prevent gingivitis and tooth decay, while not causing any harm to the teeth.
Gold Toothpaste Features
Learn about what is special about our Gold Toothpaste, when to use, etc.
How is the Gold Toothpaste different from other toothpastes?
The Gold Toothpaste is SLS Free, Made - Safe Certified, Vegan & Cruelty Free and has no artificial colours. It is a product that leaves you with a fresh breath, plaque removal and white teeth. Our toothpaste does not contain any preservatives, or other cytotoxic ingredients. There is no bleach or harsh chemicals, it is certified Non-Toxic, SLS Free, Vegan, Preservative Free, Sugar Free and Dentist Formulated & Recommended.
What is the flavour of the toothpaste?
This toothpaste has a refreshing taste of ultra fresh mint that gives an instant fresh breath and luxurious brushing experience.
Is this toothpaste free of Fluoride?
Yes, This formulation uses a more effective substitute of Fluoride known as Nano Hydroxyapatite for teeth remineralization and hence this toothpaste is Fluoride Free.
How to Use
Learn about how to use, how many times, etc.
How do I use the airless pump bottle for dispensing the toothpaste?
To use the airless pump bottle, simply press the pump head to dispense an even amount of toothpaste onto your toothbrush and proceed with your regular brushing routine.
When should I use the Gold Toothpaste?
We recommend that you use Gold Toothpaste twice a day and that helps in effective teeth whitening and freshening breath.
Gold Toothpaste is safe for children above 3 years old, although some ingredients may cause irritation.
Ingredients
Learn about the ingredients, its benefit, etc
How does Nano Hydroxyapatite (n-Ha) help?
Nano Hydroxyapatite (n-Ha) which is essentially what are teeth enamel is made up of is a reminieralising agent. Hydroxyapatite remineralizes teeth by replacing lost minerals such as calcium and phosphates caused by high levels of acid or bacteria. Remineralization takes place when filling the microscopic cracks in our teeth created by tooth decay, and used in our saliva to do just that for our teeth. This is said to help repair teeth damaged by cavities while preventing cavities by breaking down first before it reaches tooth enamel.
Being a naturally occurring organic material within our bodies means it is biocompatible and safer than most other dental products or treatments on the market. This means it does not induce toxicity such as the issue of overexposure and ingestion of fluoride known as fluorosis nor inflammation when it is used to spur bone growth & tooth repair.
What are the ingredients used in it?
Aqua (Demineralised Water), Sorbitol, Hydrated Silica, Glycerine (Vegetarian), Sodium Methyl Cocoyl Taurate, Nano-Hydroxyapatite, Xanthan Gum, Xylitol, Erythritol, Stevia, Cocamido Propyl Betain, Menthol, Peppermint (Essential Oil), Spearmint (Essential Oil), Ascorbic Acid, (Vitamin C), Orange Peel Extract, Aloe Vera Extract, Vitamin E, Potassium Sorbate, 24 K Gold Leaf, Gold Dust.