₹ 2,499.00 ₹ 1,999.00
Sold Out
Product Description
Induction Based USB Charging
Comes with 4 Modes and 4 Brush Heads
Sonic Technology, Powerful Vibrations
Enabled with 2-minute Timer and Quad Tech
Sale price
₹ 1,999.00
Regular price
₹ 2,499.00
Unit price
per
Sold out
Additional 10% OFF | Use Code : ORALHEALTH
Check Services and Delivery for
View full details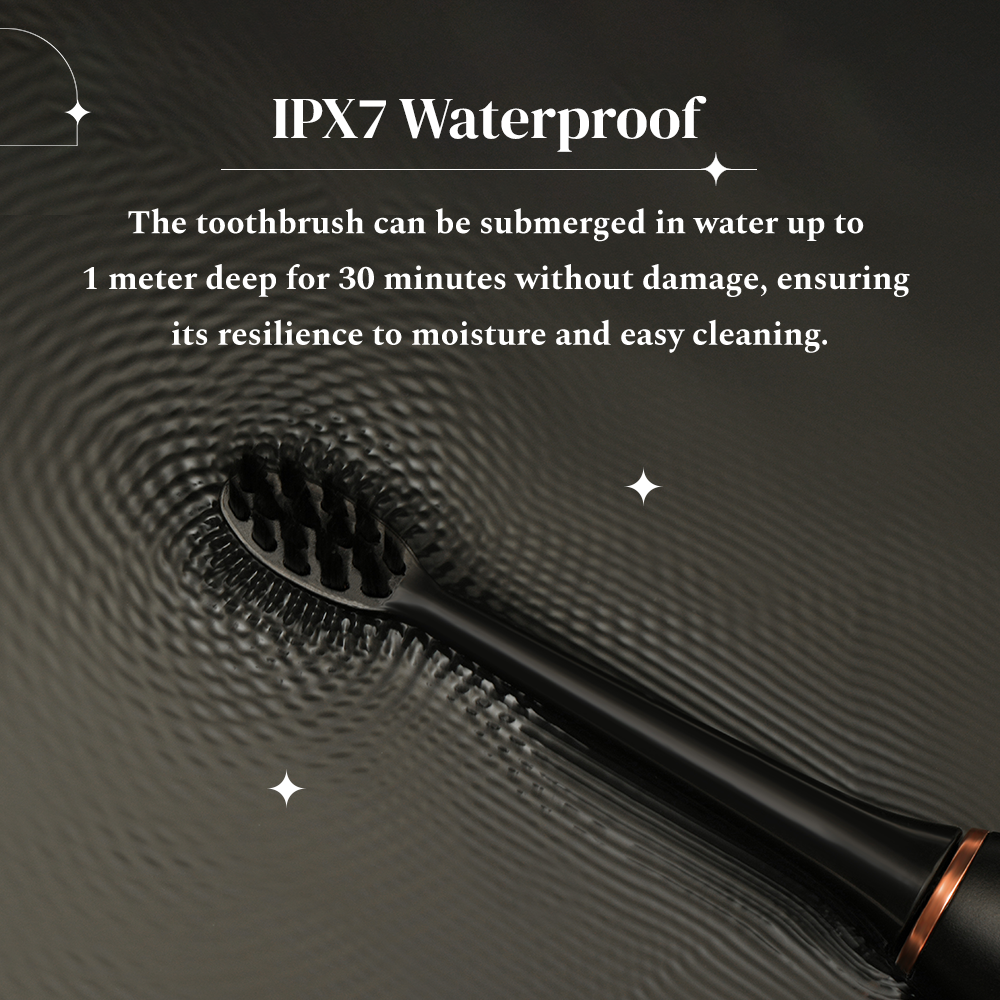 Frequently Asked Questions
Sonic Toothbrush
Learn about electric toothbrush benefits, use, etc.
Why should I switch from a manual to an electric toothbrush?
According to dentists, an electric toothbrush with sonic technology cleans teeth and gums more effectively than a manual toothbrush. Since the usage is timed, an electric toothbrush also ensures a standardised brushing experience every single time. Moreover, we can never attain a rate of 24,000 - 48,000 strokes per minute while brushing manually.
What is the difference between sonic and oscillating electric brushes?
Oscillating toothbrushes have brush heads that rotate at a rate of about 2,500 to 7,500 strokes per minute. This sonic toothbrush does not rotate but vibrate much faster, at about 24,000 to 48,000 strokes per minute. Because this sonic toothbrush vibrates at around 5 times the rate of an oscillating electric toothbrush and produces hydrodynamic effect, a two-minute brushing session with a sonic toothbrush helps clean the teeth better.
Personalisation
Learn about customisation, how it works etc.
How can I personalise my electric toothbrush?
Scroll to the top and click on 'Personalise With Your Name'. Just add the name you want to get printed on your electric toothbrush and we'll get it done.
Do you charge for personalisation?
We charge a minimal fee of ₹49 for personalisation. This is inclusive of all taxes.
By when can I expect shipping of my personalised toothbrush?
For personalisation, please allow us 48 - 72 hours to get the order ready and dispatched. Delivery takes 2-3 business days depending on your location.
Is it possible to customise the font and colour of the text?
We are sorry that is not possible at the moment. Though, if you have a really special request, do reach out to us on hello@perforacare.com and we'll try our best to help.
Rechargeable Sonic Toothbrush Features
Learn about product quality, features, price etc.
What is the battery life of the electric toothbrush?
This is a rechargeable toothbrush and in an ideal scenario (where a user is brushing twice a day), it would last for approximately 60 days, if not more. It charges through induction charging. It comes along with a charger inside the packaging.
Can I use this electric toothbrush during shower?
Definitely. Our electric toothbrush is IPX7 waterproof which makes it your ideal companion in the shower.
Does this toothbrush have a built-in timer?
Yes! With its in-built 2-minute timer and 30-second reminders to change brushing areas, the Perfora rechargeable toothbrush promotes the correct tooth brushing habits recommended by dentists worldwide.
How are your bristles different from other electric toothbrushes?
Our rechargeable sonic toothbrush comes with 3 different bristle styles. All have manually tufted bristles.
2 Units of Charcoal infused Super-Soft Bristles - Charcoal infusion ensures active cleaning and teeth whitening while the 10X super softness of the bristles help relieve your gums while brushing.
1 Unit of Medium Spiral Bristles - For an excellent in-between texture for healthy teeth cleaning.
1 Unit of Soft Bristles - Efficiently cleans the teeth of plaque and built up food particles, but they aren't too hard where they can cause damage to the enamel
A single brush head lasts for approximately 3 months depending on the usage.
How do the different modes in this toothbrush work?
The four different modes have different strokes per minute and perform different functions.
The clean mode operates with a speed of 42,000 strokes per min and does the job of brushing teeth really well.
The white mode helps to whiten teeth effectively with a speed of 33,000 strokes per minute.
The sensitive mode is recommended for sensitive teeth and gums and vibrates at a speed of 28,000 strokes per minute
The massage mode helps to massage gums and is apt for people using an electric toothbrush for the first time. It has a speed of 24,000 strokes per minute.
Other Questions
&nbsp
Is this toothbrush has warranty?
Of course. All manufacturing and delivery defects are covered under a 12 month warranty. You can read more about the warranty policy here.
What happens if I do not like the product?
We can assure you that you will love the product. However, if due to any reason you are not satisfied with it, we offer a 15 day trial, no questions asked. Read more about our refund policy here or mail us on hello@perforacare.com
What do I get along with this electric toothbrush?
Our rechargeable sonic electric toothbrush comes with a USB cable magnetic charger and 4 brush heads of 3 different types